DeBell Golf "Country Club Feel, Hometown Welcome"
 By Nili Nathan
DeBell Golf Course
In the month of May, days have been warm and beautiful (with some heat waves) but let's not talk weather, let's get golfing! Our own De Bell Golf Course, which is part of Burbank Parks & Recreation, a public golf course is the best kept secret in Los Angeles.
The city is committed to funding and preserving this gem in Burbank, which Golf Links voted the "Best Bargain for Top Course" with great views of Los Angeles this unique setting offers a regulation 18-Hole course as well as a 9-Hole Course. Residents…$24. Non Residents…. $31. Residents of Burbank may purchase a Resident Golf card for $15 / Year. With the card, reservations may be made up to 10 days in advance starting at 6:00 am for all days in person or over the phone. Additionally, card holders will receive the resident discount and for every 8 rounds of golf played during the week will get the 9th round for free.
De Bell Golf course requires a great iron game with the course boasting narrow fairways and tight greens. With so many unique holes, it is no surprise it attracts LA's finest. With the studios nearby, don't be surprised if you spot a Celebrity visiting while shooting a movie.
Visit website for golf course layout, reserve tee time, and more information:   http://www.debellgolf.com/
Relax Spa and Beauty Lounge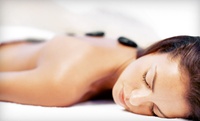 Combo Massage, Custom Facial with Choice of Treatments, or Both at Relax Spa and Beauty Lounge (Up to 56% Off)
Golf Lessons
De Bell Golf offers private lesson starting at $45. For information and details, visit their website.
However, you may consider signing up for a 6-week course through the Burbank Parks & Rec.
Last year, I signed up and was amazed at how this one course prepared me for the game. With only 4 people in the class, it was second to private lessons. And, our PGA Member instructor, Joaquin Herbozo, was excellent with beginners. The intimation factor literally dissipated at the first lesson with Joaquin. He was patient, very knowledgeable, skilled at demonstrating and teaching basic golf skills and a really nice guy. He graduated the Golf Academy of America and received an A.A.B. in Business and Golf Operation.  To read more about him and all the other great Golf Instructors click here: http://www.debellgolf.com/gold-lessons-driving-range.htm
The first few lessons are held at the Driving Range where the focus is on setting up, grip, and other golf fundamentals. Then, we moved on to the 9-hole, 3-par range and that was really fun.
People
On a morning jaunt up to DeBell Golf Course to shoot some photos, I ran into David Gallegos, who is the Assistant Golf Professional working in the Pro Shop. He's also been teaching golf for nine years, privately and through the Parks & Rec classes. I asked him what he likes most about DeBell Golf. "It has a country club feel, without the attitude," he smiled and I concur.  Which leads me to another great reason to spend an afternoon here, is for the good eats and libations at the Clubhouse Grill Restaurant. Make sure you come up for happy hour and forget your troubles. You can enjoy the views and watch the golfers from the outdoor patio, or watch your favorite sporting event on the wide-screen t.v.'s in the lounge. The locals love the renowned "garlic bread" as well as breakfast, lunch and dinner servings of American Fare. See Menu here: http://www.debellgolf.com/clubhouse-grill.htm
The waitresses are always friendly and the regular Golfers are all familiar, a true Hometown Welcome.
Click though to Enlarge Any Of The Photos
Facts
5,633 yards of golf from the longest tees for a par of 71
Rating: 68.8
Slope rating: 14 on Kikuyu grass
Designer: William F. Bell
Opened: 1959
Location
De Bell Golf Course 18-hole course
818- 845-0022 1500 E. Walnut Ave, Burbank, CA 91501 Walnut Ave and N De Bell Drive
 DeBell Golf Course-9-hole 3-par Range
Only $4 Weekdays, per person.
Balls: .50 cents
1200 E. Harvard Road
Burbank, CA 91505
818-848-3292
The 9-hole "Par-3" course at the DeBell Golf Course facility in Burbank, California features 725 yards of golf from the longest tees for a par of 27. The course rating is 67.7 and it has a slope rating of 108 on Kikuyu grass.