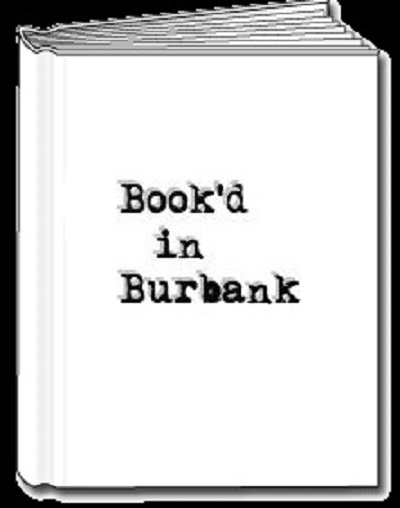 Book'd in Burbank literary event concludes its second season as "The Ultimate Bibliophiles' Night Out" on Thursday, October 23, 2014,
8:00 P.M. – 9:30 P.M. at Theatre Banshee in the Magnolia Park section of Burbank. Presented by Liz D Publicity & Promotions, Book'd in Burbank is a bookish social gathering that treats book lovers to an evening of mystery, romance and YA (young adult) author readings, "bookworm"giveaways, a mingling reception, and the stand-up comedy of writer/comedian Jordan Likover, a former contributor to Conan O'Brien's Team Coco.
In addition to the usual lineup of mystery, romance and YA author readings, the upcoming October season finale will, also, feature humor and horror fiction. "Genetically engineered zombies and a darkly comical Hollywood TV exec will join Book'd's cast of sleuths, lovers and coming-of-age teens," says Liz Donatelli, Liz D Publicity & Promotions Book Publicity & Literary Events Director, "Book'd's 2014 season finale event is going to be literary smorgasbord. There will be a little something for everybody."
Author readings will be performed by Melissa Cutler, multi-published contemporary romantic suspense author of RISKY BUSINESS(BOMB SQUAD,#1), Zoë Archer, award-winning author of sexy Victorian romance WICKED TEMPTATION (NEMESIS, UNLIMITED,#3), Steph Cha, critically acclaimed noir mystery author of BEWARE BEWARE (JUNIPER SONG MYSTERIES), Sherri L. Smith, California Book Awards-winning young adult (YA) author of dystopian, post-apocalyptic novel, ORLEANS, Diane Haithman, journalist and author of Shakespearean Hollywood satire DARK LADY OF HOLLYWOOD, a William Faulkner Creative Writing Competition finalist, and Devan Sagliani, screenwriter and Pushcart Prize-nominated horror author of ZOMBIE ATTACK! ARMY OF THE DEAD.
Book'd in Burbank is supported by media sponsors ShelfPleasure.com, a website for women who love to read, and SHELF PLEASURE RADIO. The October "Book'd Lovers Gift Basket" giveaway is sponsored by Was Now Creations, an online shop that crafts e-reader cases from upcycled books, Novel Reveries, an Etsy shop that creates literary-inspired bath & beauty products, jewelry and reading accessories, Magpie Fancies, an online boutique that offers hand-crafted biblio-inspired jewelry, Book Geek Boutique, an Etsy jewelry and gift shop for lovers of books, TV and movies, and Thornfield Hall, an Etsy shop that specializes in screen-printed scarves and shirts with classic literary quotes.
General admission is $10.  For event details and ticket info, visit www.bookdevent.com.
Book'd in Burbank is a bookish social gathering that treats book lovers to an evening of author readings and literary entertainment. Festivities include Mystery, Romance, and Young Adult (YA) author readings, giveaways, stand-up comedy, and a mingling reception.  www.bookdevent.com
Liz D Publicity & Promotions offers all authors the opportunity to connect with an enthusiastic audience by providing professional, budget-friendly services. As "The Neighborhood P & P Shoppe," Liz D guarantees a friendly and collaborative working relationship. www.lizd.co