Don't Panic, Go Organic
What To Eat
The best and quickest way to shed some pounds and inches before you tie your bikini strings around your neck, is to simply not eat any "refined" carbohydrates. You know, all the good stuff. Pizza, pasta, bagels, donuts, soda, Portos!
Having said that, the good carbs, the complex-carbohydrates are begging for your attention. Vegetables, fruit, beans, peas, lentils, and whole grains. The Mediterranean diet contributes nuts and beans for preventing anti-inflammatory diseases such as heart disease, type 2 diabetes and promotes longevity.
Gracie Barra Brazilian Jiu Jitsu Burbank

10 or 20 Brazilian Jujitsu, Muay Thai, or MMA Classes at Gracie Barra Brazilian Jiu Jitsu Burbank (Up to 89% Off)
Where To Workout 
Fitness Is Art, this brand new studio on Magnolia Blvd, Burbank is eco-friendly a non-gym without membership fees. You pay as you go. A variety of classes such as Belly Dancing Fitness, Mat Pilates, Salsa Hip Hop and lots more. Give them a try.
Fitness is Art – In Burbank,on Magnolia Blvd.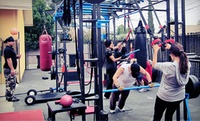 10 or 20 Fitness Classes or Three Personal-Training Sessions at Fitness is Art (Up to 82% Off)